2019 Acura MDX
Acura's flagship midsize crossover MDX receives remarkable visual updates and some significant structural and mechanical changes for 2019, which makes the new MDX an ambitious and outgoing sports-utility vehicle with an increased focus on technology, interiors and comfort. Plus, there is a plethora of fresh revisions on the new 2019 MDX that we will discuss in this article.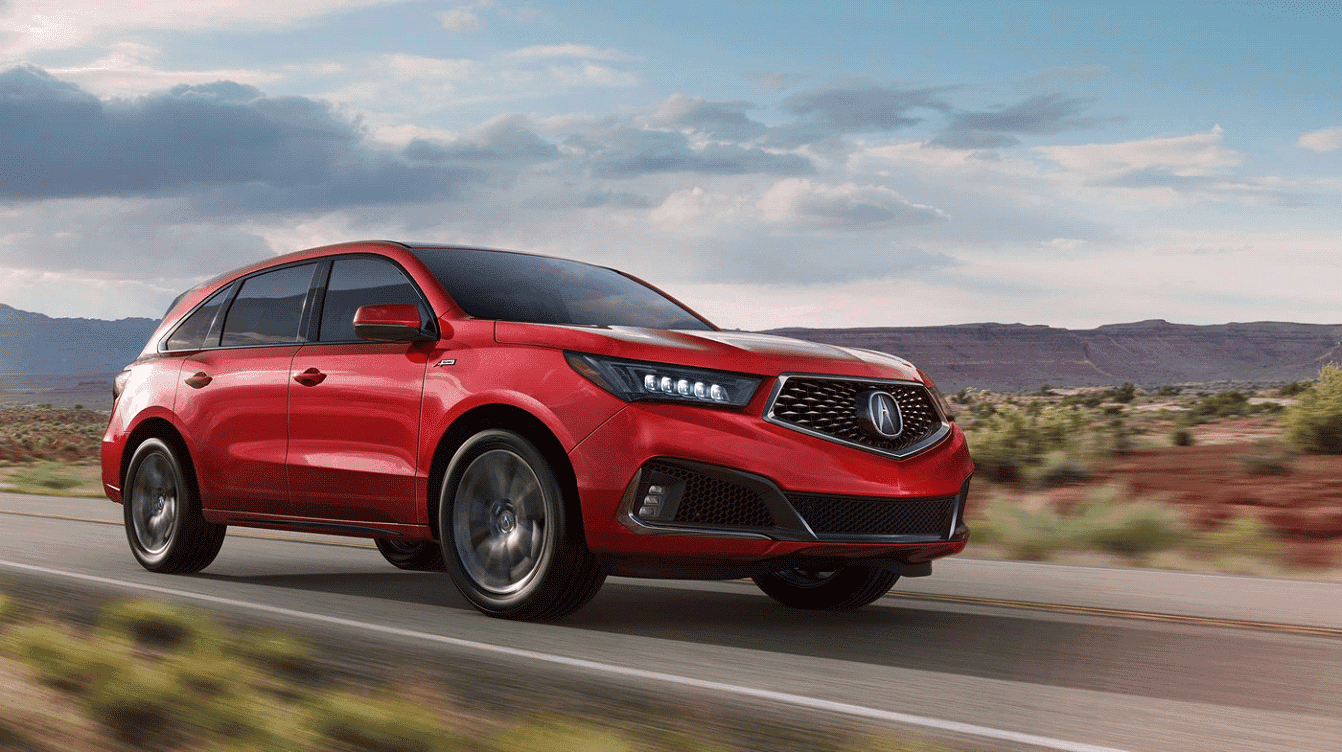 2019 Acura MDX:
The 2019 Acura MDX— with its latest innovative updates, unique transmission refinements and luxury interiors—is ready to compete in this fierce mid-size SUV automotive segment. Whether it is for a weekend escape, cross-country road trip or a fun family shopping trip, the new MDX will fulfill all your driving needs. For the new model, Acura has myriads of fresh updates such as the 20-inch alloy wheels, a state-of-the-art interior, unique front façade, many sports-oriented features and some unique additions on the A-Spec models. Here is an in-depth analysis of all the latest features and specs for the 2019 Acura MDX.
What's New?
An updated front fascia
All-new exterior color
Advanced tech features
Cool Entertainment options
And Upgraded multimedia
Watch the first look of the new 2019 Acura MDX here:

Exterior Designs: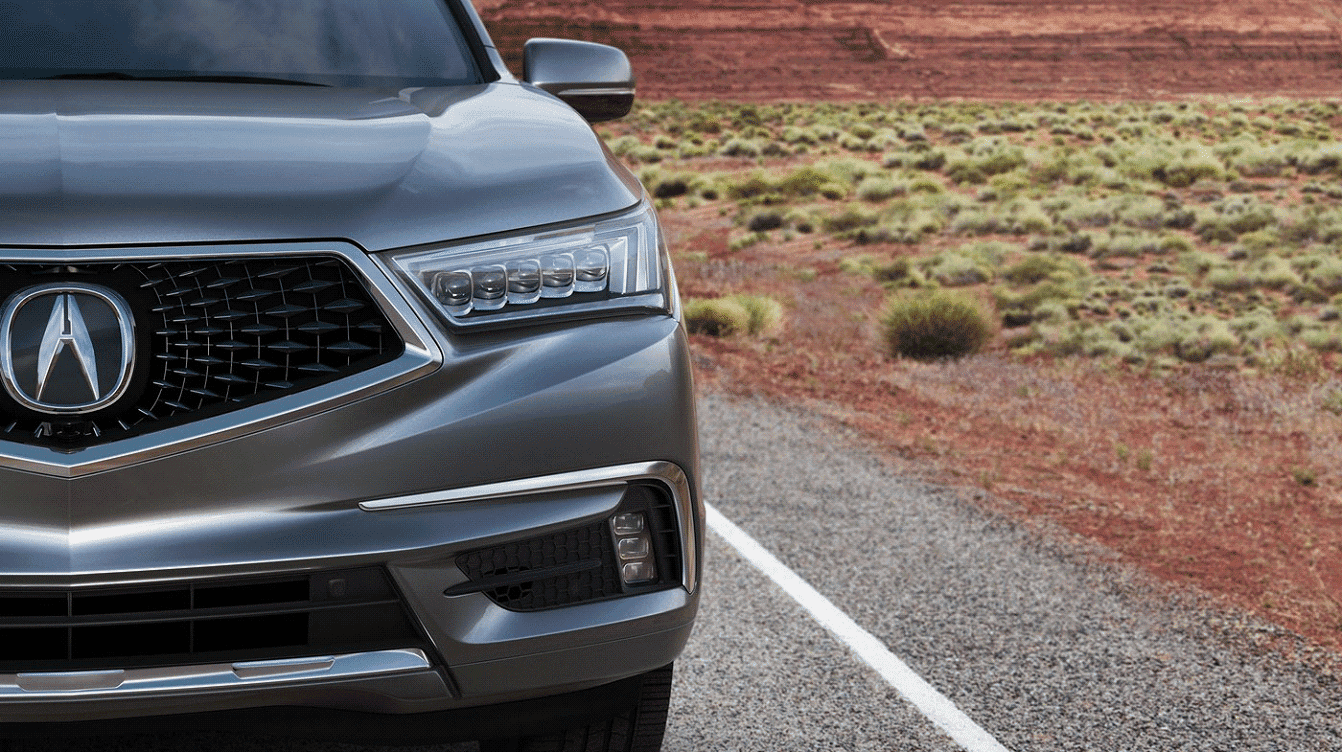 The Acura MDX receives innovative updates at all trim levels. The front fascia is revamped, features an eye-catchy sculpted bumper with lower side sills, larger diameter exhaust finishers, and glossy trim on the exterior. Plus, the updated A-Spec packages offer buyers a diverse customization choice with options ranging from 20-inch alloy wheels, Jewel Eye LED headlights, and a number of exterior paint choices.
Across all the 2019 MDX lineups, Acura offers unique paint options such as the Gunmetal Metallic, beautiful Majestic Black or Performance Red Pearl, Canyon Bronze Metallic, and the Apex Blue Pearl. Here is a table on MDX's exterior highlights.
Exterior Highlights:
| Acura-MDX 2019 | EXTERIOR HIGHLIGHTS |
| --- | --- |
| Wheelbase | 111.0 inches |
| Dual Exhaust Outlet | Standard in All Trims |
| Headlamp | Jewel Eye LED Headlights |
| Premium Exterior Paint | A-Spec-package-exclusive Apex Blue Pearl |
| Auto Dimming Mirrors | With Advanced and Entertainment package |
| LED Fog Lights | Premium A-Specs Upgrade |
| Power Moonroof | Standard in All Trims/td> |
Engine/Powertrain Features:
The nine-speed Acura automatic transmission returns this year too, but with a refinement for better performance and a smoother drivability. All new trim levels now feature the engine start/stop option and an optional Active Damper System. Under the upgraded hood, the new Acura MDX now has a powerful 3.5-L V-6 engine, which promises a heart-pounding performance, easier operation and better maneuverability. Standard front-wheel drive and A-Spec included all-wheel drive remain the same as in the last year's MDX. Sports Hybrids, however, have additional advanced features, including the dual-clutch transmission system, Acura-exclusive Active Damper System and the super-handling all-wheel driving feature.
Interior Highlights:
| Acura-MDX 2019 | PERFORMANCE HIGHLIGHTS |
| --- | --- |
| Mileage Per Gallon | 20/27/23 city/Hwy/combined* |
| Engine Type | 3.5L Direct Injection V-6 |
| Horsepower @ rpm | 290 @ 6200 |
| Torque (lb-ft @ rpm) | 257 @ 6200 |
| Transmission | 9-Speed Dual-Clutch Transmission |
| Drivetrain | Front-Wheel Drive |
Interior: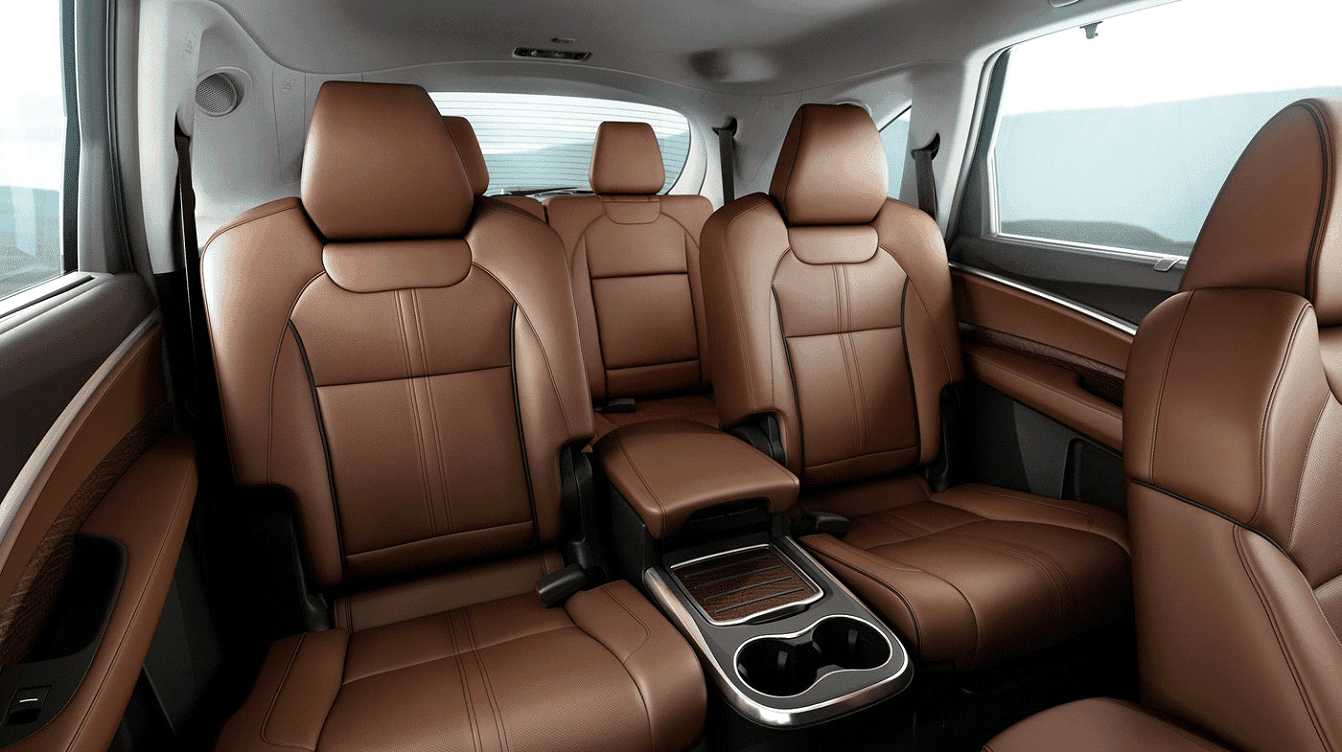 The 2019 Acura MDX boasts some latest tech additions, a whole-new interior and some cool entertainment features. This year, Acura offers an optional "Technology and Advance" package so that buyers can make a choice to upgrade their MDX to a tech advanced family hauler. With the 2019 Technology and Entertainment package, MDX receives an all-new second-row seat configuration, Desert Olive Ash wood trim, four-way lumbar adjustments and high-contrast interior stitching on the premium leather seating.
| Acura-MDX 2019 | INTERIOR HIGHLIGHTS |
| --- | --- |
| Sports Seats with Premium Leather | Standard in All Trims |
| Driver's 12-Way Power Seat | Standard in All Trims |
| Milano Leather | A-Spec-package-exclusive |
| Multi-information Display | Standard |
| Ambient Cabin Lighting | Standard in All Trims |
| 2-nd Row Captain's Chairs | Advance pkg and Up |
| 50/50 Folding 3rd Row Seats | Standard in All Trims |
Fuel Economy:
The new standard Acura 2019 MDX boasts 20/27/23 miles per gallon city/highway/combined. With A-Spec and all-wheel drive, the fuel economy is slightly lower at 19/26/22 mpg.
Leather-Wrapped Steering Wheel:
Safety:
Acura MDX is the first SUV to include a comprehensive safety suite with innovative drivers' assistance technologies. The AcuraWatch ™ is a standard feature across all trim levels of MDX, which boasts a collision mitigation braking system, adaptive cruise control and lane keeping assistance features. Blind-spot detecting system, surround-view camera, vehicle stability-assist and road departure mitigation system are some of the other unique safety inclusions in the 2019 Acura MDX.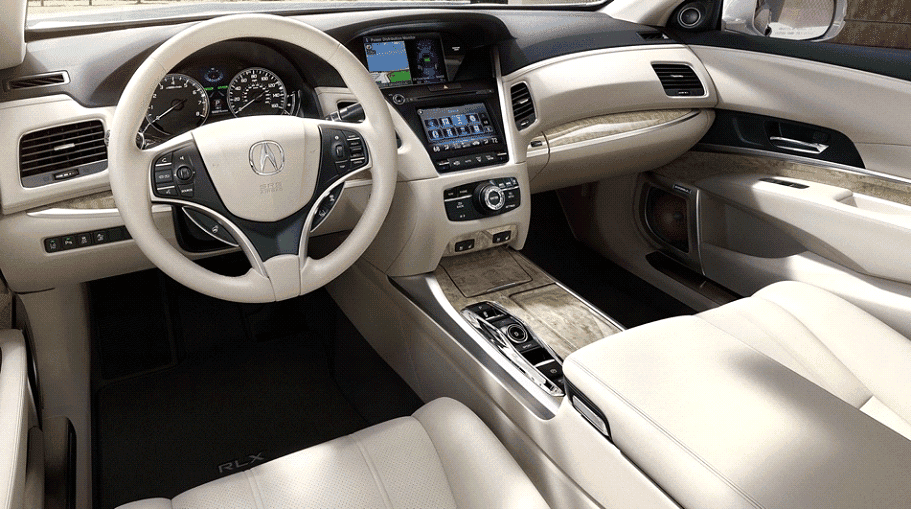 Engine and Powertrain:
| Acura-MDX 2019 | SAFETY HIGHLIGHTS |
| --- | --- |
| Collision-Mitigation-Braking | Standard in All Trims |
| Blind Spot Information (BSI) | Tech Package and Up |
| Multi-view Rear Camera | Standard in All Trims |
| Lane Departure Warning (LDW) | Standard in All Trims |
| Lane Keeping Assist System (LKAS) | Standard in All Trims |
| Adaptive Cruise Control (ACC) | Standard in All Trims |
| Road Departure Mitigation (RDM) | Standard in All Trims |
Here is a video on Acura's safety suite:
Entertainment: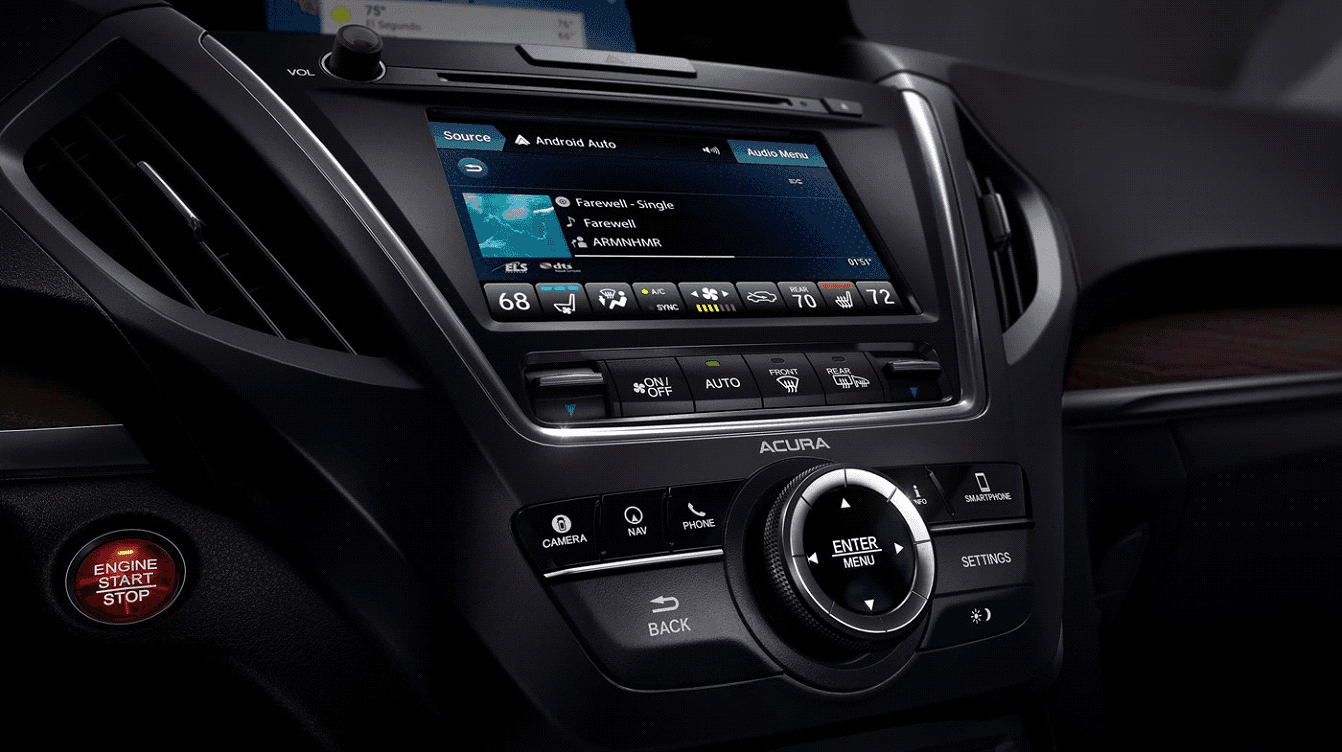 Within MDX's sophisticated cabin, there is a well-appointed cockpit featuring a navigation system, a dashboard with audio, smartphone and multimedia connectivity, and a user-friendly center console. The 2019 MDX certainly fulfills each buyer's digital needs. And, with the Premium Navigation System, MDX offers real-time traffic info and an optional Dual Screen with the Advanced package.
| Acura-RLX 2019 | TECHNOLOGY HIGHLIGHTS |
| --- | --- |
| Acura Premium Audio | Standard |
| SiriusXM | Standard in All Trims |
| Pandora Compatibility | Premium Trim and Up |
| Apple CarPlay/Android Auto | Premium Trim and Up |
| SMS, MMS, Email Capability | Standard in All Trims |
| Acura Navigation System | With Technology Package |
| Multi-information Display | Technology Package and Up |
Loved all the added features in the new MDX 2019? Go forth, check out the new 2019 Acura MDX at our dealership and enjoy a test drive.