Recipes: Flourless Chocolate Cake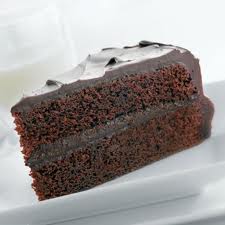 Flourless chocolate cake--also known as chocolate soufflé cake--has long been favored for its smooth, dense texture and ultra-rich chocolaty flavor. With a moist crumb and thin crust that melts in your mouth, this cake will satisfy even the most resolute chocoholics.
Thankfully for many, it just so happens that this indulgent treat is also suitable for the growing number of Americans with a gluten intolerance, which means they can't eat any foods containing wheat flour. Flourless recipes are becoming increasingly popular as more and more people find they are gluten-intolerant. But unlike many gluten-free baked goods, the lack of flour is the icing on the cake rather than the recipe's main appeal.
---
Flourless Chocolate Cake
Total Preparation time: 30 minutes
Active time: 10 minutes
Inactive time: 20 minutes
Yields: One 9-inch cake
Ingredients:
1 ounce unsweetened baking chocolate
8 tablespoons (1 stick) unsalted butter
¾ cup sugar
½ cup unsweetened Ghirardelli cocoa powder
3 large eggs
½ teaspoon pure vanilla extract
Instructions:
Preheat the oven to 375°F. Lightly grease a 9-inch cake pan.
Place the baking chocolate in a small saucepan or microwave-safe bowl and melt over medium heat or in the microwave for 1 1/2 minutes on high, stirring occasionally. Add the butter and continue to melt on the stovetop, stirring continuously, or in the microwave for another 1 1/2 minutes, stirring occasionally.
A little bit at a time, add the sugar and cocoa powder to the butter-chocolate mixture, whisking well after each addition. The mixture will look a bit grainy when completely mixed.
One at a time, add the eggs to the chocolate mixture, whisking well after each egg is added. Add the vanilla and whisk slightly.
Pour the cake batter into the prepared cake pan and bake for 25 minutes, or until the cake sets and the top forms a thin crust. Remove the cake from the oven and allow it to cool completely before cutting and serving.